Creating moments with friends and giving thanks for one another is what Friendsgiving parties are all about. I am going to share with you how to easily decorate for a Friendsgiving party. By following these five tips, you will create the perfect casual feel while prompting moments of expressing gratitude for one another.
[This post contains sponsored links. The items featured and linked in this post were all provided by JOANN; all opinions and reviews are my own.]
Are you familiar with a Friendsgiving party? I'd like to share my definition of a Friendsgiving party: Creating a time where you can be with friends, giving thanks for one another. Doesn't that sound like a lovely idea?
If you are coming from my dear friend Jen of Midwest Life and Style blog, welcome! I am so inspired by her DIY artichoke and magnolia centerpiece for Thanksgiving. Speaking of Jen, she and another dear friend Aliya of the Open Doors Open Hearts blog are the hosts of our Friendsgiving Tablescape Inspiration blog hop. At the end of this post, you will have the chance to visit many other bloggers' tablescapes that we hope will inspire you!
Are you ready to get started with my Friendsgiving party ideas?
If you've never hosted one before, I want to share with you how to decorate for a party that will be memorable for all who attend. These five tips are designed to be budget-friendly, simple, and inviting. Let's get started!
I found everything I needed at JOANN. They had an excellent selection of Thanksgiving-themed items, as well as pieces that were fall-colored. I knew that I wanted the party to feel casual, so I combined a natural/colorful feel to create the look I am sharing with you today. JOANN's décor included paper goods (i.e., invitations, paper plates, etc.), fall florals, photo booth backdrop pieces, and more.
Below are the five tips to decorate for a Friendsgiving party.
Paper Invitations
When was the last time you received an invitation by mail? I know for me, it has been a while. My mother is still so good at sending paper invitations for parties she hosts; it feels so unique and nostalgic to receive this kind of mail. You can see that I chose stationary (similar ones here) that coordinated with the party's look to keep it all consistent from the beginning. My daughter has some excellent calligraphy skills, so I asked her to hand letter them for me. We then added a few stamps to each one, and we were done!
Friendsgiving Table Décor
Table decorations do not have to be complicated to look beautiful! Think of this table décor in three steps. First, lay down a table runner like this burlap one I found at JOANN. Second, place your centerpiece on top of the runner. For this tablescape, I chose lovely glass vessels (similar ones here) with candles inside of them. Then, I alternated small fall floral arrangements (similar florals here) between the vessels. Third, add something whimsical fall petals. I just sprinkled them out until it looked right!
Friendsgiving Place Settings
These place settings came together easily when I spotted the "Give Thanks' paper plates (similar fall plate option here) at JOANN. They had the look and colors for my party. Each place had a charger, everyday white plate, and give thanks plate. I then added a cloth napkin with a name tag that I'll share more about below. If you want a super easy cleanup, you can always use plastic cutlery in place of silverware like I did for my table.
Photo Booth/Wall Backdrop
Don't we all enjoy taking pictures together these days? Why not add a fun wall that encourages your guests to take pictures together at the party. This premade wall backdrop was perfect from JOANN; then, I added tissue globes (set found here) to finish the look. I hung the globes with fishing line and painter's tape to not peel the paint off our ceilings. It worked great!
Personalized Elements
Having a spot for each of your guests makes them feel special. I was so excited to find these cute letter tags and layered them on top of these wood slice ornaments. The wood slices already came with twine, so I just tied them around the cloth napkins. Also, do you see those brown bowls? I cut slips of paper for each guest to drop a note into another guest's bowl, letting them know what they are grateful for about that person.
By following these five tips, you can easily decorate and host a memorable Friendsgiving party. Your friends will feel loved and cared for that you took the time to decorate it so inviting and thoughtfully.
What do you think? Are you ready to host your own now?
If you enjoyed this Fall post, I recommend checking these out too:
I would love for you to stay in touch by becoming a She Gave It A Go Insider! Get weekly tips, encouragement, special deals, and more!
Sign up HERE and receive a FREE DIY Guide for making any table the perfect chippy paint table.
Now, head over to my dear friend Aliya's tablescape for Friendsgiving. You are going to love her copper and plum accents table ideas. Her photos are to die for, I am always eager to see what she designs and shares on her blog.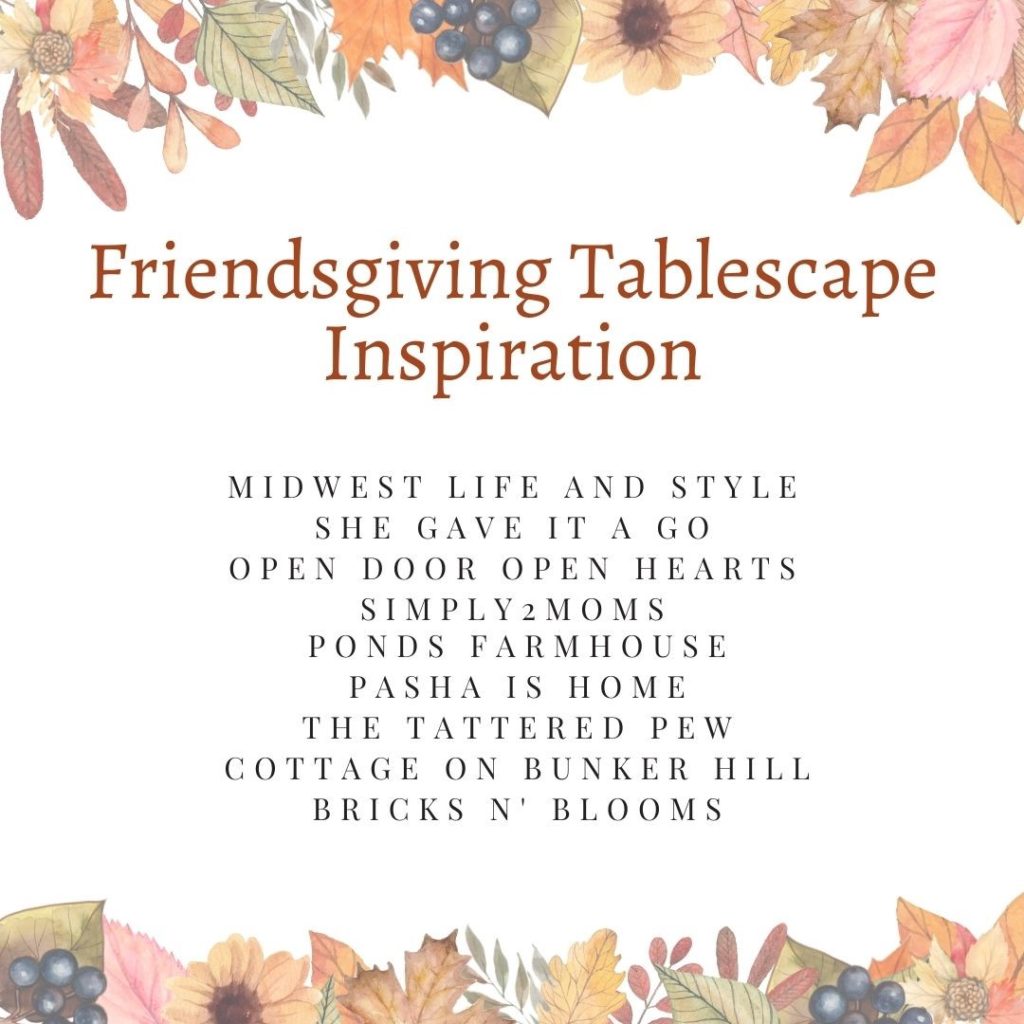 Midwest Life and Style | She Gave It A Go | Open Doors Open Hearts | Simply 2 Moms

Ponds Farmhouse | Pasha Is Home | The Tattered Pew | Cottage On Bunker Hill | Bricks n' Blooms