These oatmeal chocolate chip cookies are so yummy they have earned the nickname "treasures". Come try out this recipe that my mom has been making for years, these cookies are easy and so scrumptious.
I am so excited to be part of this fun holiday cookie exchange that Jen over at Midwest Life And Style is hosting (thank you, Jen!). If you are coming from my friend Meeghan's blog at Cali Girl In A Southern World, welcome! I cannot wait to try her almond snowball cookies recipe.
Oatmeal Chocolate Chip Cookies
Over 20 years ago, my roommate and I would come home on the weekends from Auburn and spend time with my family. Oftentimes when we were home, my mom would make these oatmeal chocolate chip cookies. My roommate and I would say they were so good, they were like treasures!
We are still enjoying this same oatmeal chocolate chip cookie recipe today at family gatherings and now in my own home. I cannot wait for you to try out this delicious cookie recipe. Let's get started!
Ingredients for oatmeal chocolate chip cookies
2 1/4 cups self-rising flour
2 cups packed brown sugar (1 cup white sugar may be substituted for 1 cup brown)
1 cup butter, softened
2 tsp. vanilla
2 eggs
2 cups quick oats
6 oz. semi-sweet chocolate chips
optional: 1/2 cup chopped nuts
Directions for oatmeal chocolate chip cookies
Preheat oven to 350 degrees.
In a mixer, beat butter and sugar, eggs, and vanilla until creamy, at medium speed. At low speed, gradually add flour and oats.
Next, stir in chocolate chips.
Then, take an ungreased cookie sheet-spoon onto, about 2″ apart.
Bake 10-16 minutes.
Yields about 2 1/2 dozen. I sure hope you enjoy these "treasures" as much as we do! Package them up in a holiday tin and gift your family and friends some of these delicious oatmeal chocolate chip cookies for Christmas.
I am so glad you visited today and hope you and yours will enjoy this family recipe for oatmeal chocolate chip cookies for years to come! Now, I cannot wait for you to check out my Jen's cookies over at Midwest Life And Style. Her cookies sound amazing for the holidays!
I would love for you to stay in touch by becoming a She Gave It A Go Insider! Get weekly tips, encouragement, exclusive deals, and more!
Sign up HERE and receive a FREE DIY Guide for making any table the perfect chippy paint table.
Holiday Cookie Exchange Blog Hop
Today I'm joined by some of my blogging friends who are also sharing their delicious holiday cookie recipes with you! Just click on the links below the images to be taken to their post.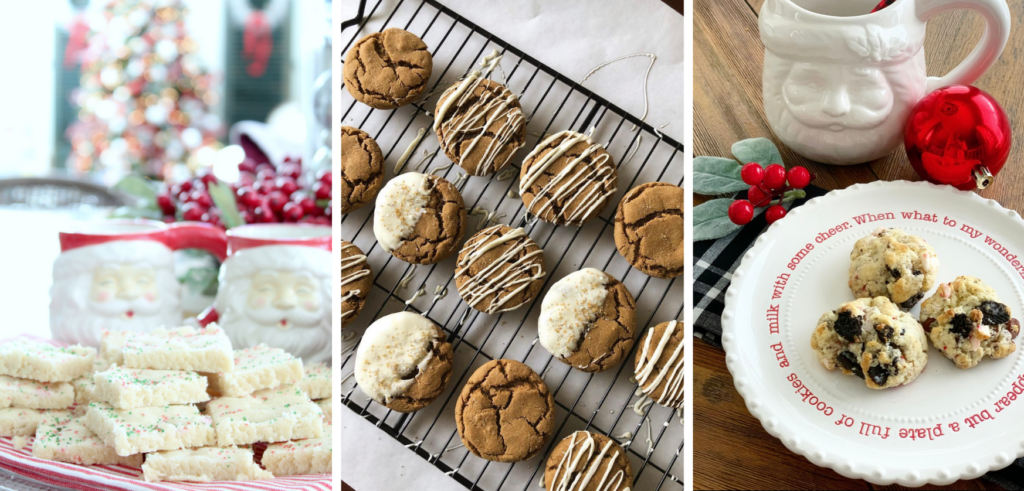 Quick And Easy Christmas Shortbread Cookies / / Molasses Cookies With White Chocolate / / Peppermint Chocolate Chunk Cookies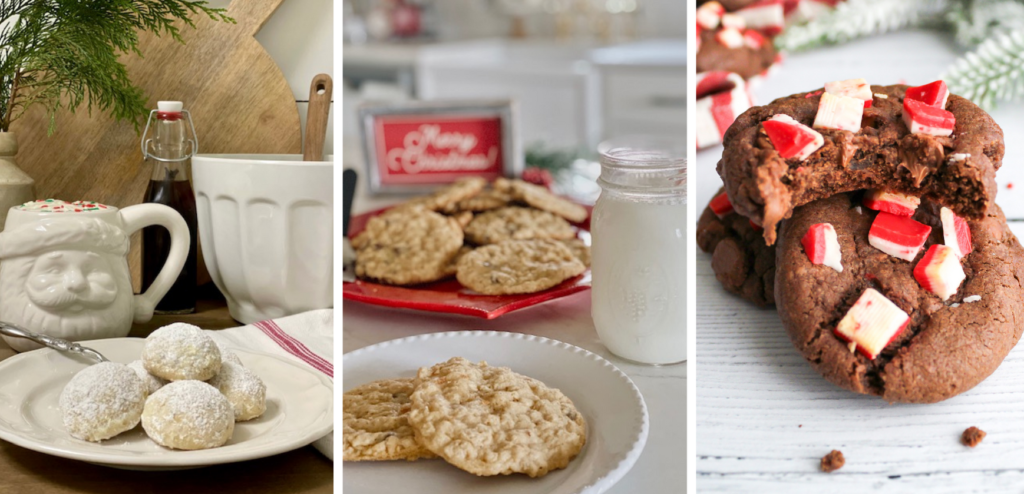 Almond Snowball Cookies / / Mom's Oatmeal Chocolate Chip Cookies / / Double Chocolate Chip Peppermint Cookies